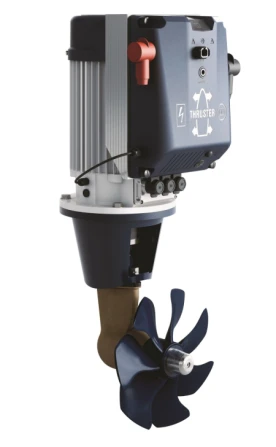 BOWPRO 320 AC Bow Thruster 320kgf 24-48V
BOW PRO Boosted expands to 300-mm tunnels!
The efficiency of proprietary VETUS motor controllers combined with the latest innovative brushless motors gives you the most powerful BOW PRO thrusters in the 300-mm tunnel range
Boost up your thrust in a 300-mm tunnel! The BOW PRO thruster has not only proven to be a reliable thruster, but is also capable of charging the batteries with an internal charging solution. This innovative solution simplifies the installation. In practice, this means you can connect the BOWB285, BOWB300 or the BOWB320 to a 24-V power supply to recharge the 48-V battery bank with the built-in charger, doubling the value of the BOW PRO on board.
Features
32 0kgf output
First three BOWB thrusters for 300-mm tunnels
Proportional control
V-CAN compatible
Energy efficient and long run time
No maintenance on the brushless motor
Highly efficient, safe and easy to install
Intelligent motor controller doubles as a battery charger
---
| | |
| --- | --- |
| Thrust (kgf) | 320 |
| Power (kW) | 18,4 |
| Internal tunnel diameter (mm) | 300 |
| Weight (kg) | 72 |
| Voltage (V) | 24/48 |
| Current consumption (A) | 390 |
| Continuous operating time (min) | 10 |
| Ignition protected | No |
| Proportional | Yes |
| Retractable | No |
| Extended runtime | Yes |
---